28 Apr

Inmeba

'Inmeba bestaat dit jaar tien jaar. We zijn flink gegroeid en toe aan een nieuw bedrijfspand.' Directeur Ingrid van der Meulen Bakker: 'Mijn loopbaan ben ik ooit gestart met een onderneming in sportprijzen. In loondienst werkte ik later bij een bedrijf dat gespecialiseerd was in stempels, graveren en beletteringen. Dit specialisme heb ik voortgezet bij Inmeba. Staal en acrylaten zijn prettige materialen om mee te werken. Tien jaar geleden stuurde ik bedrijven die net verhuisd waren een fax of ze een stempel nodig hadden. Al snel ontdekten ze dat ik ook het naambordje kon leveren en graveren, en de belettering op de gevel en de bewegwijzering en veiligheidssignalering in het pand kon aanbrengen. De productstickers en belettering op de auto's verzorgde ik ook.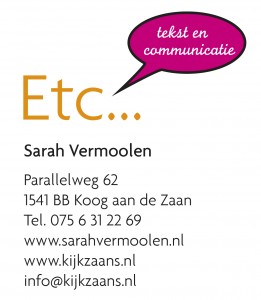 Binnen driekwart jaar had ik personeel en in 2009 zijn we met drie personeelsleden een vof geworden. We hebben inmiddels een hecht team van zes mensen dat deskundig advies kan geven over al onze producten. Dat we een familiebedrijf zijn waarbij iedereen zijn eigen taak heeft, geeft ook meerwaarde. We staan er om bekend dat we heel snel kunnen leveren. Met de naambordjes en belettering laat je zien wat voor bedrijf je bent dus over deze visuele communicatie moet wel goed worden nagedacht. Bij het ene bedrijf past rvs en bij een ander werkt een acrylaat veel beter. Alle materialen zijn tegenwoordig goed, maar je hebt daarbinnen nog wel veel keuze. Doordat we zoveel vakkennis hebben weten we precies welk materiaal en opmaak de boodschap van de klant kan versterken. Wil hij een sjiek bordje of een materiaal dat ook qua bevestiging wel tegen een stootje kan? Het creatief meedenken met de klant en het ontzorgen maakt dat mensen graag bij ons terugkomen.
Bij grote Zaanse bedrijven komen we regelmatig langs, maar er zijn ook nog veel bedrijven die ons nog niet kennen. We hopen dat zij ook contact opnemen want ons team staat op alle fronten voor de klant klaar.